Review: Hollywood Dirt by Alessandra Torre (Solemate ❤️)
5:27:00 PM
ARC Review: Hollywood Dirt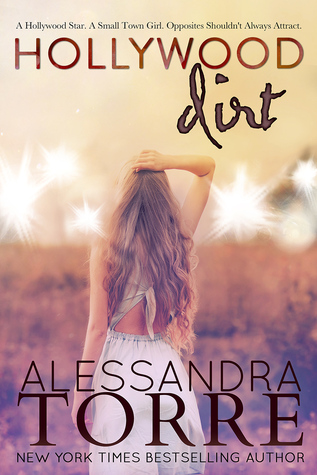 Cole Masten.
Abandoned by his superstar wife, Hollywood's Perfect Husband is now Hollywood's Sexiest Bachelor: partying hard and screwing even harder. Watch out Los Angeles, there's a new bad boy in town.
Summer Jenkins.
That's me, a small town girl stuck in Quincy, Georgia. I cook some mean chicken and dumplins, can bluff a grown man out of his savings in poker, and was voted Most Friendly my senior year.
We were from different worlds. Our lives shouldn't have collided. But then Cole Masten read a book about my small town. And six months later, his jet landed on our dusty airstrip, and he brought Hollywood with him.
From the start, I knew he was trouble. For our town. And for me.
Sometimes, opposites just aren't meant to attract.
"What is it called when one person makes a huge mistake?"
"Easy. That's called life."
To be honest, when the news about a new book from this author came out, I was ecstatic. Then it was contemporary romance. Okay, seriously? I was like,
oo-kay
. I mean,
Alessandra Torre
is the queen of mind-fuck and suspense and I was having doubts about this book. So when the sign-ups came, I signed up for the cover reveal but not the
ARC
. And when the cover was revealed?
Kill me now!
Fuck me!
I was having serious regrets. I'm a sucker for beautiful covers. It's my huge turn-on. Forget the blurbs, they mean little to me. But give me a beautiful cover?
Christ!
I go crazy and obsessed over it! But hey, maybe I was a lucky shhlut because somehow I manage to grab an ARC!
"In Hollywood, off camera, you can't be yourself. You can't be weak, you can't be honest, and you can't be genuine. Not if you want to survive."
This novel is not what you think it is. Even if you've set expectations, you're actually going to be surprised. I mean it, a lot of surprises. But, before you start reading even the first page, you have to read the Author's Note first so that you'll be able to enjoy the book without thinking and questioning about stuff if somewhere out there, the setting is actually existing. Yes, it's what I did. I had to, and no worries, no spoilers there.
I love the two sides of the novel. It's not really what you would expect I'll say considering that I have my doubts. Well, AT brought two sides and two different worlds together and somehow, she made it work. The glimpse of what it is to live the lifestyle of a Hollywood star and how it is to live in a Southern town. I like the pacing that is slow and that I am able to get the feel of the setting, and that I am being intrigued and that I am able to get to know the characters.
"Smile. Treat your neighbor as yourself. Be gracious. Keep your secrets close and your enemies closer."
Cole Masten
. First class Asshole. That was actually my first impression of him. But beneath those layers is a boy who's childish and possessive and sweet. I love him. I wanted to cuddle him and baby him. He's like the perfect man.
"I want to flip you over and bury my face in between your legs and fuck you with my mouth. I want to make you scream my name and come underneath my mouth and taste the moment you fall apart for me.
...he could have one continuous moment of Summer worship."
Summer Jenkin. She's an enigma. I love her and her humor. And I like the mystery surrounding her.
"He was hell. But his body, his cock, what he did to me? It was heaven.
There should be laws against men who could kiss like that. With a mouth that dominated yet begged. Tongue that teased yet delivered. Tastes that dipped into an addiction stream and hooked a woman after just the first hit."
So, usually when it's an
AT Book
, I expect hotness. But this one?
I find this book sexy
. The anticipation, the humor, and just the right amount of intensity. The banter was also sexy and fun.
"The minute I get off that plane I will drive there, pin you down on my bed, and worship your pussy. I won't stop until my mouth is imprinted on your mind and your taste is my fucking middle name."
And then there was some surprise to this book. I mean, a
special appearance
. I was actually thinking,
is Alessandra Torre crazy?
Because yeah,
The Alpha Male
of all alpha has just appeared and it got me thinking that his character might overwhelm
Cole
but no, it actually didn't. I was drooling and my panties were up in a bunch with that unexpected surprise and yes, I felt the same way as
Summer
had but he didn't take away the spotlight actually. He's appearance was so fucking brilliant and you would just be thinking,
ah, I think I know why he was there and everything will make sense eventually.
That was so exciting I had to keep myself from jumping like crazy.
"You were drooling over him. You have Cole Fucking Masten on your front porch, and you were staring at him like your damn panties were about to combust."
So yes, I may have doubted this book but Alessandra Torre just proven me wrong. I never had a problem with reading a book anywhere because I can basically control my reactions, but while reading this? I had to cover my mouth and I had to giggle like crazy. Gah, I had hard time holding my laugh because I find the scenes so humorous that not laughing is actually a crime. I have to say I am
wowed
because this is the first time that I ended reading a book by AT that I just smiled and I feel so
contented
.
Satisfied
.
Sated
.